The GO-A3-PW Air Powered Gate Opener generates a constant speed of 8.5-RPM, and a power output of 2,700 ft-lb.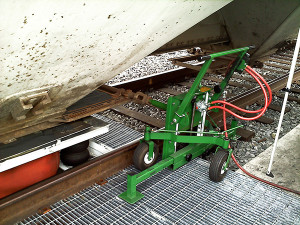 The WORKMASTER® GO-A3-PW Gate Opener is an air-powered Hopper Car Gate Opener on a wheeled-cart with manual control of both its pivot wheels (to follow traveling gate), and height adjustment (accommodates varied height capstans).
The GO-A3-PW Hopper Car Gate Opener is the wise choice for worksites which experience:
Railcars that vary from easy-to-open to moderately-difficult because they are well maintained and regularly repaired;
Hopper cars with either fixed position or traveling gate mechanisms;
Trackside surface is level, smooth, and unobstructed (for traveling gate mechanisms);
Railcars with varied height capstan / gate mechanisms.
GO-A3-PW Hopper Car Gate Opener Features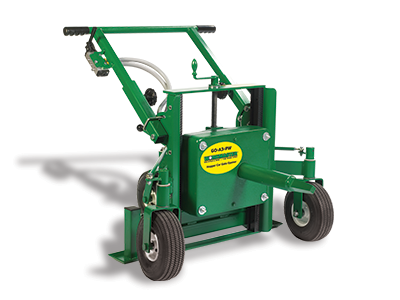 Downloads
Request Information
GO-A3-PW Hopper Car Gate Opener Specifications
Model
GO-A3-PW Pivot Wheel Gate Opener with Slide-a-Way Outriggers
Power
Pneumatic; 18.5 CFM @ 90 PSI
Working Torque
2,700 ft-lb Constant at 8.5 RPM
Wheel Assembly
10.5″ Dia with 4.10/3.50 – 4″ Pneumatic Tubeless Tires, Sawtooth Tread
Handle Width
36″ Wide; Fitted with Handle Grips
Height Adjustment
Height Adjustable: 7.5″ to 19.75″ Ground to Capstan
Inlet Coupling
Universal Coupling (Chicago Type) with Safety Lock Pin
Finish Coating
Acrylic Enamel Coat Finish
Included
Filter, Regulator with Gauge, Lubricator Trio-Control
Drive Fitting
One (1) Qt TOOL LUBE™ Air Tool Oil
Operating Video
Operators Manual