Don't Injure Your Back Lifting Bulky or Heavy Railcar
Vibrators — Just ROLL-A-VIBE™!
This practical and economical portable lift cart is a lightweight, highly maneuverable method of transporting and placing any make/model of railcar vibrator into a hopper car pocket bracket. The ROLL-A-VIBE™ Vibrator Lift Cart is designed to reduce employee injuries and increase productivity. Leverage efficiency and ease of operation make the ROLL-A-VIBE™ Vibrator Lift Cart the preferred method of handling vibrators at any unloading site.
ROLL-A-VIBE™ Railcar Vibrator Lift Cart Features
How The ROLL-A-VIBE™ Vibrator Lift Cart Works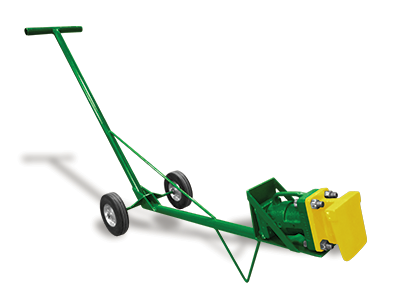 | MODEL | PART # |
| --- | --- |
| ROLL-A-VIBE™ Lift Cart - Air Piston Vibrator | 30-20025 |
| ROLL-A-VIBE™ Lift Cart - Air Roller Vibrator | 30-20030 |
| ROLL-A-VIBE™ Lift Cart - Electric Vibrator | 30-20035 |