The GO-M3 Manual Gate Opener generates an operator paced power output of 3,200 ft-lbs with only 173 ft-lbs of input power.
The WORKMASTER® GO-M3 Gate Opener is a manual-powered, hand portable, compact Hopper Car Gate Opener that rests on the ground while engaged in a railcar capstan. The GO-M3 Hopper Car Gate Opener, a heavy-duty torque multiplier, uses planetary gear action to enable an operator to simply turn a ratchet wrench to open gates.
The GO-M3 Hopper Car Gate Opener is well suited for worksites that experience:
Railcars that vary from easy-to-open to moderately-difficult because they are well maintained and regularly repaired;

Compressed air or other power is not available or limited;

Hopper cars that have fixed position gate mechanisms only;

Trackside surface is level, smooth, and unobstructed;

Narrow decks or platforms that preclude wheeled-cart or beam-mounted Opener;

Site security requires portable, easy removal and storage of tools and equipment.
GO-M3 Hopper Car Gate Opener Features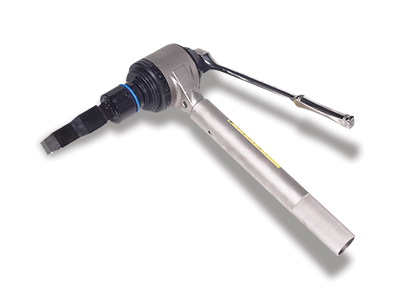 GO-M3 Hopper Car Gate Opener Specifications
Model
GO-M3 Portable Gate Opener
Working Torque
3,200 ft-lbs Output @ 173 ft-lbs Input
Dimensions
14″L X 19.6″ H (with Drive Fitting & Reaction Bar)
Height Adjustment
Lift-On Portability to Accommodate Any Capstan Height
Finish Coating
Acrylic Enamel Coat Finish
Included
Drive Fitting with Pin & Ring Retainer
Ratchet Wrench (1/2″ Square Drive)
1″ Square Drive Spare Anvil
3/32″ Allen Wrench
Sturdy Carrying Bag
Operators Manual