The WORKMASTER® GO-A8-FW is an air powered Railcar Gate Opener on a wheeled-cart with manual height adjustment (to accommodate varied height capstans). The GO-A8-FW Railcar Gate Opener utilizes a lever throttled, 1-1/2 sq dr, impact wrench to generate an operator controllable speed of 100 to 1,400-RPM, and a no-torque-reaction, self-regulating (no more – or less – power than is required to open the gate), power output of 1,000 to 13,000 ft/lbs.
Although the GO-A8-FW railcar gate opener does require an adequate supply of clean, dry, compressed air (as do all pneumatic devices) at the unloading site, this is rarely a problem since it uses less compressed air per-gate-opened – only 12 cu ft @85 PSI – than any other Gate Opener on the market (except for our GO-A13-HA). Further, a clean, dry adequate air supply for the Opener (and other railcar unloading assist devices, eg, a pocket vibrator or a hopper car unloading connector), can be inexpensively purchased, and easily installed.
The GO-A8-FW's ergonomic design has received critical acclaim for its safety, comfort, ease-of-use, productivity & performance, and aesthetics. These user-friendly features, combined with the A8's speed, power, and long life, make it the top selling Gate Opener in the world.
The GO-A8-FW Railcar Gate Opener is the wise choice for worksites which experience:
Railcars with gates that vary from easy to extremely-difficult to open because the cars are not always well maintained or regularly repaired;

Railcars with fixed position gate mechanisms;

Railcars with rough or uneven trackside terrain making gate opener maneuverability an issue;

Railcars with varied height capstan / gate mechanisms;

Railcars in long train units which require rapid opening / closing during continuous movement unloading.
GO-A8-FW Gate Opener Features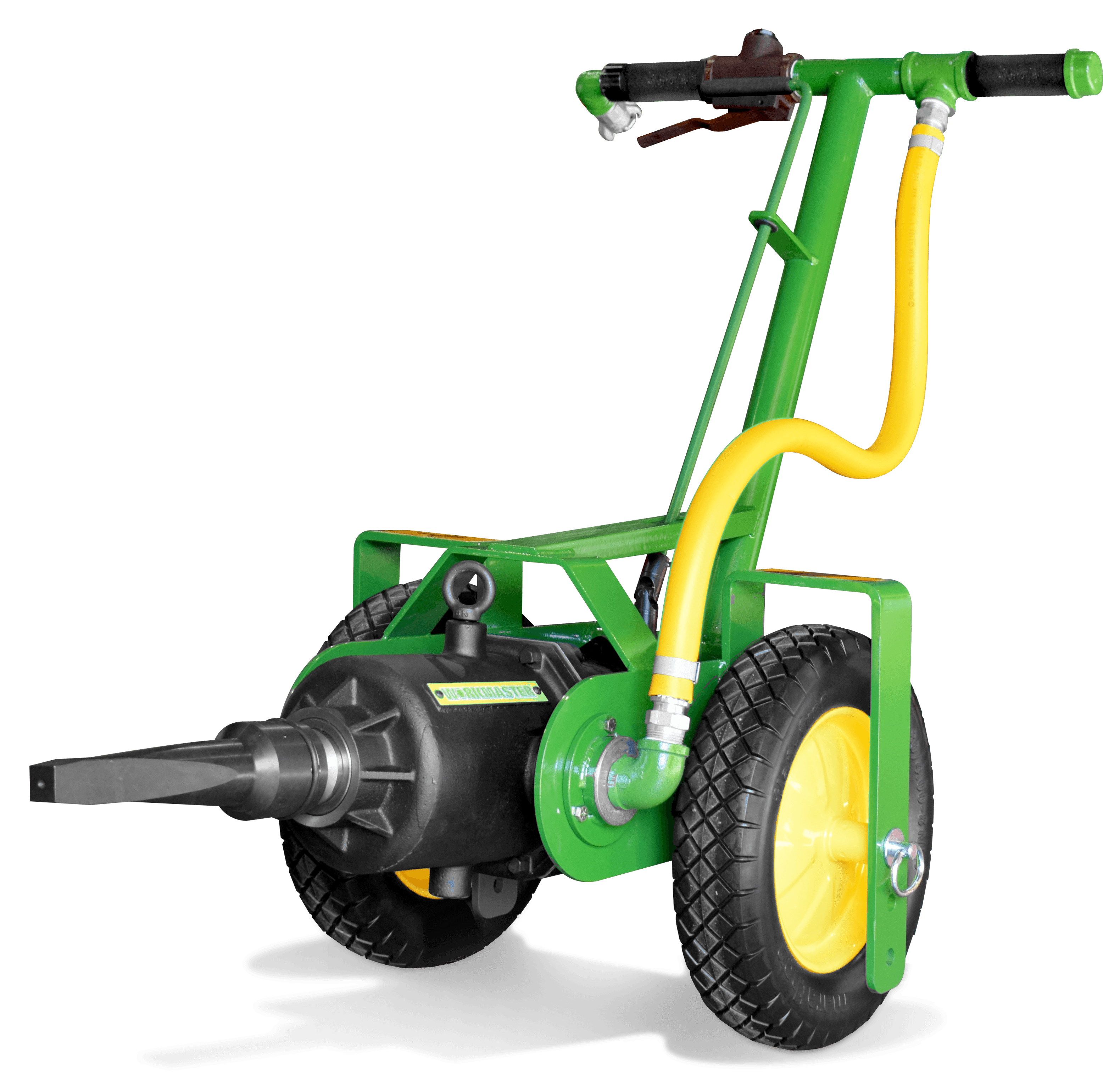 GO-A8-FW Railcar Gate Opener Specifications
Model
GO-A8-FW Pivot Wheel Gate Opener
Power
Pneumatic; 148 CFM @ 85 PSI (Free); 114 CFM @ 85 PSI (Impacting)
Working Torque
1,000 to 13,000 ft-lbs; Recoilless, Self-Regulating at 1400 RPM
Wheel Assembly
16″ Dia with 4.80/4.00 – 8″ Flat-Free, Solid Polyurethane Tires Ribbed Tread
Handle Width
28″ W; Fitted with Handle Grips
Height Adjustment
Height Adjustable Forks: 10.5″, 12.5″, 14.5″ Ground to Capstan
Inlet Coupling
Universal Coupling (Chicago Type) with Safety Lock Pin
Finish Coating
Baked-On Powder Coat Finish
Included
Drive Fitting with Pin & Ring Retainer

One (1) Qt TOOL LUBE™ Air Tool Oil

Operating Video

Operators Manual